Cal Poly took 3rd Place at the 2016 FDRS Competition in New Orleans!
Cal Poly took 3rd Place at the 2016 FDRS Competition in New Orleans!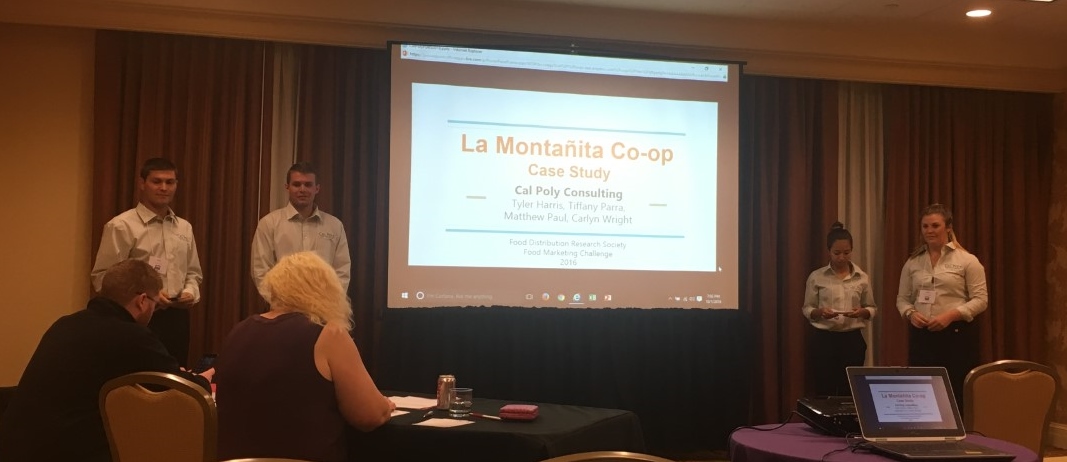 A team of four Cal Poly students accompanied Dr Michael McCullough to this year's Food Distribution Research Society (FDRS) Competition in New Orleans.  Each year University students get the opportunity to play the role of consultants, competing to give a live presentation for a mystery company over this two day event.  Students will make their bid presentation to the company's executive team.  This real world challenge provides students the opportunity to apply their knowledge of food distribution, marketing, management, economics, and merchandising.
 The 2016 Annual Meeting of the Food Distribution Research Society was held at the New Orleans Downtown Marriott at the Convention.  The Student Marketing Case Competition was held over two days.  Teams consisted of 3 to 5 undergraduate and masters-level students.
 Representatives from the sponsoring company were on hand to present the case to on Saturday morning. Details about the company was withheld from all teams until the morning of the contest, however registered teams received some topic guidance and additional instructions two weeks prior. Student teams had Saturday afternoon to craft their presentation and prepare for the first round of competition on Saturday evening, with the final round Sunday morning.
"It was a great competition!  We had some fantastic innovative ideas utilizing cross docking and sound financials but in the end it was a tough crowd.  We took home third place this year and are hungry for another shot next year.  Be sure to congratulate Matt, Tiffany, Tyler, and Carlyn for their excellent work!" (Dr McCullough) 
Related Content