Food Distribution Research Society (FDRS)
The Food Distribution Research Society (FDRS) marketing competition is an exciting way for Cal Poly students to gain hands-on marketing experience. Three to five Cal Poly students participate in a live case-study, timed marketing competition. The company is not revealed until the day of the competition. During the competition students play the role of consultants for a mystery company with just six hours to formulate a recommendation and a presentation to the company executives. Successful teams incorporate a broad range of skills taught in the Agribusiness department, including sales, finance, and marketing.
The live competition is followed by an industry tour where students can tour local businesses and experience the local attractions. Students also have the opportunity to network with a large number of food industry professionals.
The competition is held every year in cities throughout the U.S. Recent competitions have been held in New Orleans, Salt Lake City, Chicago, and San Juan, Puerto Rico. 
The FDRS Food Marketing Challenge is truly a unique opportunity for Cal Poly students to "Learn By Doing" in a realistic business environment. Don't miss out, apply for the FDRS marketing team during spring quarter.
FDRS Team Coaches:
Awards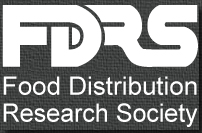 Related Content